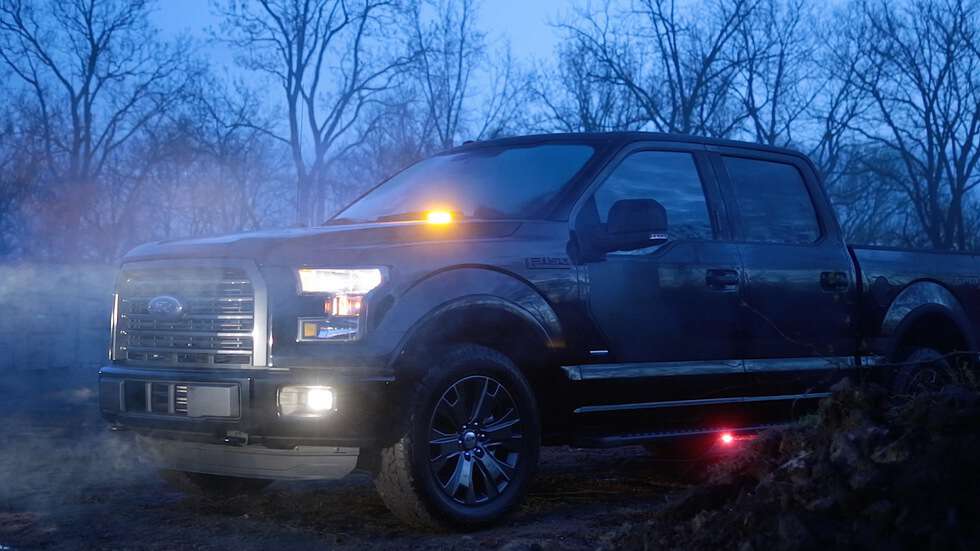 Ford, America's truck leader and the only automaker to offer an available factory-installed strobe warning LED light kit, is making strobe lights available to F-150 fleet customers for the first time.
The strobe light kit is designed for use by utility, road construction and municipal crews that need enhanced vehicle visibility while working on-site to warn motorists and others that workers may be present and to proceed with caution.*
Already available on 2016 F-Series Super Duty, the lights now are available for all 2016 F-150 models – making the toughest, smartest, most capable and safest F-150 ever an even better tool for work. The kit uses weather-resistant, durable, low-power LEDs, and is specifically designed to work with the F-150 high-strength, military-grade, aluminum-alloy body.
The front- and rear-mounted amber lens strobe lights can be seen from as far away as 1,000 feet during the day and a mile at night. Forward-facing signals are high mounted at the rear edge of the hood for maximum visibility. Rear-facing signals are mounted on either side of the center high-mounted stop lamp, and provide up to 180 degrees of illumination. Customers can program the flash pattern to meet specific fleet requirements.
"Ford designed the first-ever factory-installed LED warning light kit based on fleet customer input," said Kent Bock, Ford commercial accessory business development manager. "Because it comes directly from Ford, customers can trust that this light kit is Built Ford Tough. Ordering is as easy as checking a box, and the truck is delivered to your dealer with the system installed."
The no-drill option has a Ford limited warranty of three years or 36,000 miles, and is not susceptible to corrosion issues that can be a result of aftermarket installation. The strobe lights are serviceable at any of the more than 3,000 Ford dealerships nationwide.
Strobe light ordering is available for customers with a fleet identification number.
*Should only be used on or near work site and not during normal road driving
Source: Ford
Comments