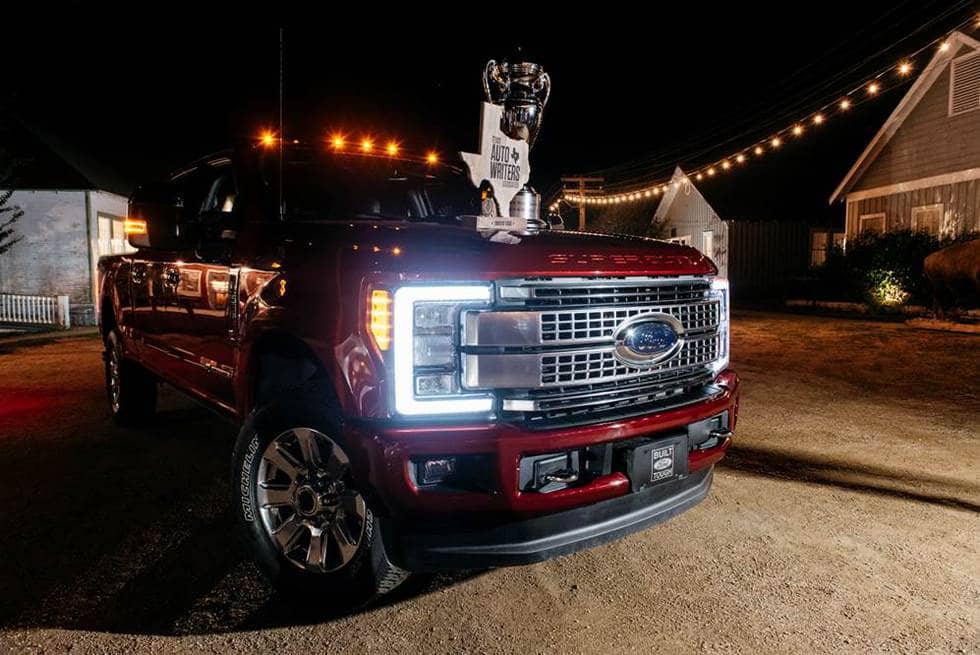 Ford trucks earned top honors at the Texas Auto Writers Association's 2016 Texas Truck Rodeo, with the all-new 2017 Ford F-Series Super Duty – the toughest, smartest, most capable Super Duty ever – being named "Truck of Texas," the most prestigious award given at the 23rd annual competition.
"We are honored to win the 'Truck of Texas' award as it underscores how the all-new 2017 Ford Super Duty lineup are the toughest, smartest and most capable trucks we've ever built," said Doug Scott, Ford Truck Group Marketing Manager. "This prestigious award from the Texas Auto Writer's Association further solidifies Ford's truck leadership in Texas, where F-series continues to be the best-selling truck and builds on our momentum as the top-selling truck in the United States for 39 consecutive years."
The 2016 Texas Truck Rodeo marks the 13th time the most prestigious award has been won by Ford F-series pickup trucks (1993, 1997, 1999, 2003-2008, 2009, 2011, 2014 and 2016).
"Ford's all-new 2017 Super Duty and its innovative use of advance materials, as well as improvements in powertrain and features, thoroughly impressed our journalists," TAWA President Nic Phillips said. "This year's Texas Truck Rodeo was by far the most competitive in the most categories. More than 70 member journalists put in more than the equivalent of 15 days of driving time in the competing vehicles. After careful evaluation, I believe the results of the competition show just how competitive the truck and utility vehicles are today."
Using advanced materials to reduce weight, 2017 F-Series Super Duty pickup trucks feature all-new segment-exclusive smart technology features to help increase customer productivity, comfort and convenience.
The backbone of the truck is an all-new fully boxed frame comprising more than 95 percent high-strength steel that's up to 24 times stiffer than the previous frame – enabling best-in-class towing and hauling capability. Super Duty also features heavier-duty four-wheel-drive components, driveline, axles and towing hardware.
For the first time, the Super Duty body uses high-strength, military-grade, aluminum alloy, which is more dent- and ding-resistant than the outgoing steel body and not subject to red rust corrosion. Together, high-strength steel and high-strength aluminum alloy help reduce weight by up to 350 pounds. Ford engineers reinvested that weight savings everywhere it counts, to give customers more towing and hauling capability than ever before.
With towing central to the Super Duty mission, an all-new advanced coaching and camera technology makes conventional as well as gooseneck and fifth-wheel towing easier and more efficient than ever.
From LED lighting to adaptive cruise control, the all-new truck boasts 17 segment-first features that assist Super Duty customers – making driving and work situations easier and more comfortable. As many as seven cameras help drivers see angles and monitor conditions surrounding the truck, providing better trailering than ever before.
A center high-mounted stop lamp camera provides visibility into the cargo box, especially useful for hooking up gooseneck and fifth-wheel trailers. A 360-degree camera system uses four high-definition digital cameras to give the driver a bird's-eye view surrounding Super Duty. Trailer Reverse Guidance provides visual cues and tips to help ease backing up a trailer. The first factory-available trailer camera can be attached to a trailer to improve visibility backing up.
Super Duty is part of the Ford F-Series lineup. Now in its 68th year, F-Series has been the best-selling truck in America for 39 consecutive years and the best-selling vehicle in America for 34 consecutive years.
Here is the complete list of Ford vehicles and features winning top honors at the 2016 TAWA Truck Rodeo:
Truck of Texas: 2017 Ford F-Series Super Duty
Heavy Duty Pickup Truck: 2017 Ford Super Duty
Best Powertrain: 2017 Ford F-150 with 3.5-liter EcoBoost V-6 engine
Truck Line of Texas: Ford Motor Company
Source: Ford
Check out Ford's "Power and Torque video" below for the new 2017 Ford Super Duty, and let us know your thoughts in the comments section.
Comments